Stefano Canulli was born in Rome.After his studies at the Accademia delle Belle Arti and at the Accademia di Costume e di Moda, he attended several courses of photography and advertising.
When he was only 19 he worked as wardrobe assitant for many italian films and some important TV shows as well.
One year later he worked with Lancetti for haute couture collections. In the meanwhile he became official illustrator for Roberto Capucci's fashion house.
As an illustrator and designer he became attached to Valentino, Chiara Boni and Cartier and he created for them important advertising campaigns.
The magazine Vanity owes some of the most beautiful cover to him. After moving to Paris, he started collaborating for several years with Maison Mugler.
His artworks were exhibited in range of an exposition about the "Made in Italy"at the Museum of Modern Art of New York . At the moment Stefano Canulli lives in Los Angels and he is the artistic director of the new show of Le Cirque du Soleil.
In 2003, Stefano worked with Thierry Mugler to design costumes for the Cirque du Soleil show ZUMANITY, and in 2006 he made drawings for Philippe Guillotel's costumes for The Beatles LOVE. Viva ELVIS is his first Cirque show as Costume Designer.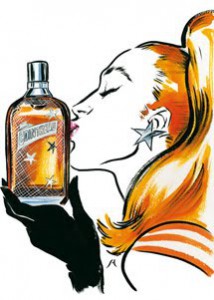 "At Cirque du Soleil, the movement, wear and comfort of the artist are the main constraints," he says. "It's a fascinating world. These technical limitations have profoundly changed the way I work."
The style and approach of Stefano Canulli, for whom "drawing is the basis of everything," are easily recognized in his designs for Viva ELVIS. "The costumes I've created for this show are a fantasy revolving around the 1950s, inspired by the image of Elvis. But the end result has nothing to do with a retro aesthetic," he says. "Taking my usual classic and graphic approach, I flirted with the look of the Elvis era while bringing a contemporary touch to it."
Watch his Cirque Soleil works here
Louise Bramstedt - Lobra Loves